Cocoa Grinder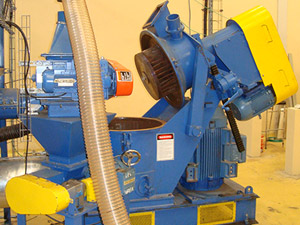 The American Pulverizer VFG Series Cocoa Grinder is a specially developed machine for the production of super fine products. It is designed to reduce lumps of cocoa cake to a 99.7% passing 200-mesh size. The capacity of this system is 1500–2500 pounds per hour. The high throughput of air and effective air circulation allows very fine grinding, especially for products extremely sensitive to heat.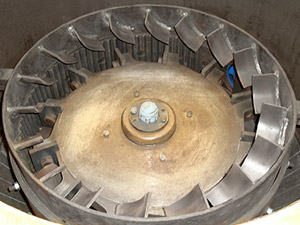 By means of a feed rating screw, the feed product is radically fed into the grinding zone through an opening in the triangular-ribbed grinding track. The product is reduced by impact of the plate beater system against the triangular-ribbed grinding track. The beater system can stand the highest mechanical stressing. The beater plates, of which there are 12 total, are interchangeable, usable on two sides, and are made of highly wear-resistant tool steel. The beater system can be easily dismantled when the machine is open.
Contact Us For questions or other information about our Cocoa Grinders.