Double Roll Crusher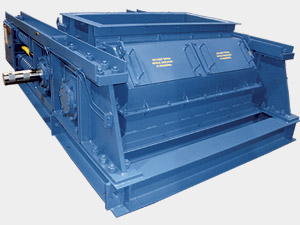 The American Pulverizer Double Roll Crusher is ideal for primary and secondary reduction of ROM coal, washed coal, middlings, screenings, slag, moist clay, limestone, cement, potash, rock, sulfur, lignite, pyrite, and other materials where minimum fines are required.
American Pulverizer brings over a century of experience to the design, performance, and capacity of these machines to provide unmatched product control with dependable operating efficiency, minimum maintenance, and long service life.
Available in a range of sizes to meet your exact specifications.
Components of the Double Roll Crusher include:
Hand pump for safe, easy hydraulic adjustment of crushing rolls
Relief springs on each side that adjust for maximum protection from tramp metal damage
Driven rolls that feature a V-belt and spur gear system for easier maintenance
Spur gears of case hardened 4140 steel that allow 0" to 6" adjustment between crushing rolls
Crushing rolls use replaceable segments bolted together for easy maintenance
Sealed bearings in dust-tight pillow blocks for longer life
Ribbed housings of heavy plate steel reinforced at stress points
Replaceable liners throughout for maximum ease of maintenance
Contact Us For questions or other information about our Double Roll Crushers.