Pre-Ripper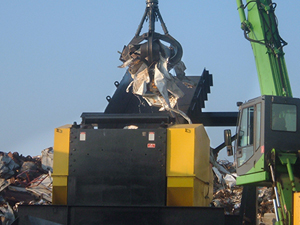 In less than 1 minute, American Pulverizer Pre-Rippers can shred a complete automobile including frame, axles, front and rear ends, drive shaft, springs, differential, and all accessories minus motor and transmission. They are ideal for producing a small size product that can be more easily baled. The material can be continuously fed into a small high-speed hammermill.
Features
Powered through a V-belt drive, speed reducer, and chain drive to 3 ripper shafts
Uses differential speed with pierce and tear shredding
Low power requirements and slow speed resulting in low operating and maintenance costs
Automatic grease and oil lubrication system
Automatic control circuit enables machine to be operated in conjunction with other equipment at no increase in labor cost
Contact Us For questions or other information about American Pulverizer Pre-Rippers.