Tires
Tire Shredding Equipment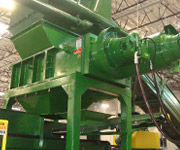 TRS SERIES
Shred and process all types of tires with American Pulverizer's TRS Series Shredders. They offer the versatility of slow-speed reduction and cut waste handling costs.
American Pulverizer will design and assemble shredders and complete systems to meet your specific requirements. In addition to our stationary units, our tire shredders are available as portable systems for standard or heavy-duty operation.
SEE IT SHRED
Contact Us For questions or other information about our tire shredding equipment.